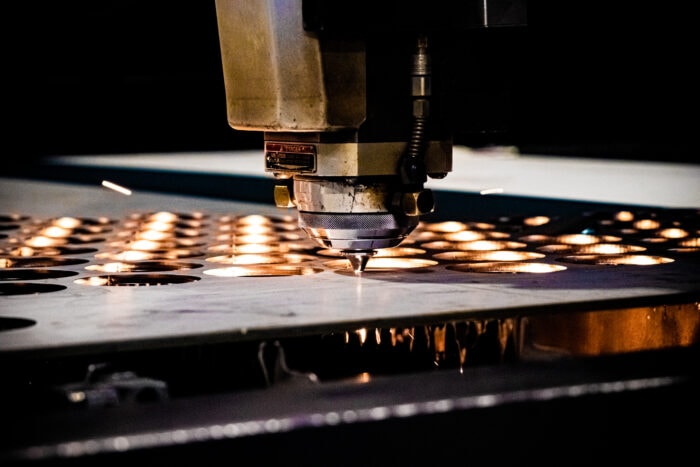 Fiber vs. CO2 Lasers
One of the biggest changes the laser industry has seen since its inception has been the introduction of fiber optic lasers. Since the 1980's the CO2 laser has been the industry standard, but recently the addition of fiber lasers has allowed for faster production, less maintenance, and few variables which ultimately means a more reliable cut and shorter lead times. At Emtek, we have two CO2 lasers, and recently invested in a fiber laser adding to increased capacity for our customers across Ontario. The question is though, what is the difference between the two?
Down Time? What Down Time?
One of the biggest hidden advantages to a fiber laser is its compact solid-state design. It allows for a much more maintenance free operation. CO2 lasers can be down for hours and sometimes even days just for
preventative maintenance;
that is not including time spent with break downs or other major issues that can occur with all the small internal components of a traditional CO2 laser. With less maintenance that means less down time and more production capacity for jobs big and small. Fewer hiccups and fewer internal issues allow for more reliability in the cut as well!
Old Faithful
When our operators are cutting on a traditional CO2 laser, they are constantly balancing the different variables that occur in the beam path of that style of laser. Bystronic USA states:
"Fiber lasers have a fully sealed Fiber optic beam path both at the power source and at the Fiber delivery to the cutting head. The beam is not subjected to beam path contaminates as is the case with CO2 lasers. Fiber optic beam paths maintain consistent nozzle beam centering. Because the integrity of the Fiber beam remains consistent from day to day, so do the cutting parameters, requiring far less adjustments than a CO2 laser."
This means that there are fewer scrapped "first offs" when checking cutting conditions and a more reliable cut throughout the entire job. That means that the components that the fiber laser cuts will have a far superior level of quality control allowing you to know that your parts are coming in exactly how you expected them to!
Feel the Power!
Fiber lasers consume far less electricity than CO2 units. With that being said, one would assume that the power output from a CO2 laser would be higher than an equivalent fiber laser. Fortunately, we are not comparing apples to apples!
Bystronic USA ran tests and discovered that the focused beam of even a 2 kW Fiber laser demonstrates a 5X greater power density at the focal point when compared with a 4 kW CO2 laser. It also possesses a 2.5X greater absorption characteristic due to the shorter wavelength of the Fiber laser.
What this ultimately means is far greater speeds in the fiber laser's "sweet spot." (5/16 and under steel/stainless) This allows for a greater yield of parts per minute, all at a net gain on power consumption as well.
When Emtek had initially investigated adding a fiber laser to our process we thought our capacity would potentially increase by 1.5x with some of the added benefits of fiber. Surprisingly, it has increased by more than
double
what we originally anticipated. Fiber lasers are completely unmatched in their ability to produce at a higher level and with greater reliability than most CO2 machines. With our
Amada
ENIS 6KW fiber laser on the floor, you can be sure that your parts are being cut by a state of the art machine that is an absolute workhorse!